Van Seumeren - An Enterprising Family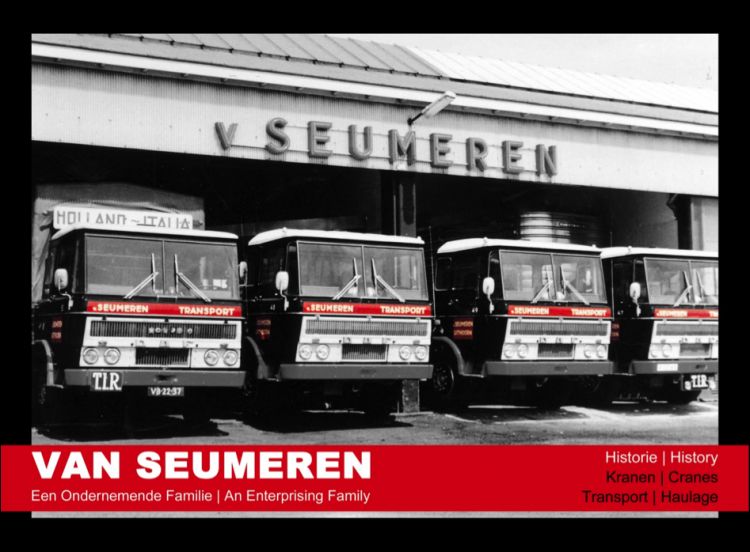 In this first part (subtitled 'History'), in addition to the family history from 1820, (almost) all businesses founded by the Van Seumeren family will be described. In depth the transport companies of Roedy Van Seumeren (such as 'Van Seumeren Transport – VST' in Uithoorn) and his sons are covered.

The biggest part however is devoted to 'Van Seumeren Kraanbedrijf - SKB' in Utrecht, established by Jan van Seumeren in 1966. Chronologically, the development of the company (branches, acquisitions, organization, quality, safety, human resources, etc.) are described until 2000, the year in which Van Seumeren took over fellow company Mammoet and decided to continue under that name.
In the second part (subtitled 'Cranes'), which will be issued in 2016, all cranes are described purchased during the Van Seumeren period.
In the third part (subtitled 'Transport'), which will be issued in 2017, the trucks and all forms of transport are on the agenda. Also attention to modeling, 'merchandising' and overviews of all the equipment.
The publication of these books, written by Peter the Groot and Dirk Knoester, is an initiative of 'Boer' Jan van Wees from the 'Van Seumeren Mammoet Archive. The books are bilingual (Dutch / English) and in A-4 format (landscape oblong), with a hardcover.
Part one contains 432 pages and about 1050 images and is printed in a limited edition of 1000 pieces. The price is € 49.95 plus shipping. For the Netherlands this is € 10.00 per book.

The book does not appear in bookstores but can be ordered from:
-'Transportboek' of Theo Wieringa in Deventer
-'Mackfanclub' of Willem Kuiper (and through him at various events)
-'Van Seumeren Mammoet Archive, via a mail to vsmarchief@gmail.com
By appointment it is equally possible to collect the book in Amersfoort, Den Haag, Maarssen or Zeewolde.
The Cranes4Cranes team would like to congratulate the Van Seumeren family with this impressive biography about their legacy. We already ordered some copies!