Franna's Pick and carry cranes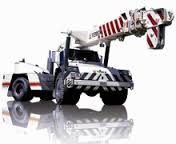 Why pick and carry cranes are famous in Australia?
Pick and carry cranes are famous for their easy and quick set-up. Most common in Australia the pick and carry cranes are build for covering large distances between plants. They are similar to mobile cranes as in they are road legal, but they have no stabiliser legs or outriggers and are designed to lift the load and carry it to its destination, within a small radius.
The most popular manufacturer of Pick and carry cranes is Franna wichs has been bought by Terex. Because Franna is so famous for producing pick and carry cranes almost always they are reverred to as "Franna's" even tough they may be made by other manufacturers. The capacity range is usually ten to twenty tonnes maximum lift, although this is much less at the tip of the boom. Pick and Carry cranes have displaced the work usually completed by smaller truck cranes as the set up time is much quicker.
Cranes4Cranes has a variety of "Pick and carry" Franna cranes available!
Click here to view available Franna cranes.