New 100 RT from Linkbelt Cranes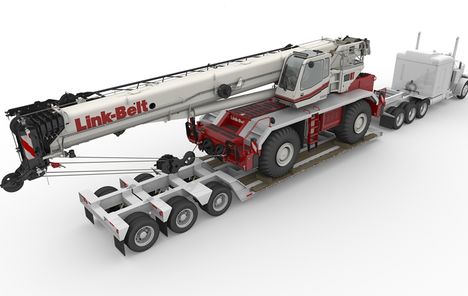 Crane manufacturer Linkbelt Cranes has launched the 100RT, a 100 US ton (90 tonne) capacity rough terrain crane.
The new model has a six-section 50 metre pin and latch boom giving a maximum tip height of 79.8 m, when configured with two 4.8 m lattice extensions. Two on board fly options are available, including both two- and three-piece lattice bi-fold jibs. A 3 m heavy-lift fly jib with more than 24 tons (21.7 tonnes) of capacity is also available. Fly extensions on the 100RT are interchangeable with several existing Link-Belt RTC and HTC models, the manufacturer said.The cab tilts 20 degrees, has a large viewing window and is fitted with the Link-Belt Pulse crane operating system. It has a camera package and LED lights on all four outrigger beams.For travel, the 100RT will transport with its base unit fully equipped minus modular counterweights at 42.4 tonnes, the manufacturer said. It has an overall height of 3.91 m. Arctic weather packages are also available.
Find out moren about
Linkbelt Cranes
Start looking for
Linkbelt Cranes for sale
Or
create an E-mail Alert
to get a pre-notice when your Linkbelt crane becomes available.